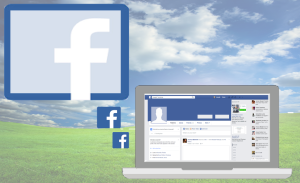 You know what?
We examined 27 small businesses and found they use Facebook wrong.
Most of what small businesses do with Facebook Marketing is losing money and wasting time.
I'd bet that your small business is making at least one of the mistakes mentioned below.
In this article, I'll cover 3 big problems small businesses face in Facebook Marketing, based on our most recent 27 small business Web Presence Audits.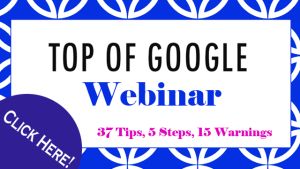 These audits allow us to grade businesses against each other based on how effectively they've built their online presence, and we're going to share what we've learned!
Note: Hey guys! As requested… we went ahead and decided to offer our web audits for free to all who sign-up for our Top of Google Webinar! Click here to find out more…
3 Problems with Small Businesses' Facebook Marketing

  (+1 Benefit)
1. Boosting Posts Wastes Money
Facebook tightly controls advertising on their site, which means you pay per "boost."
Boosting oftentimes wastes money.
Facebook has setup their algorithm so that in most cases even after people like your page, you still have to pay to contact them.
That means Facebook makes out like a bandit whenever you do Facebook Marketing! Your fans will like you but then you get stuck having to pay to boost posts every time you connect with your fans in the future.
Not cool Facebook… not cool.
So how do you use boosts effectively?
Here are 4 ideas to help you boost your post for a profit:
Be Exceptional: Provide Free, Exceptional Value to Warm-up Customers
Use Retargeting: Use retargeting on customers who click on your high-value boosted blog posts.
Create Email Lists: Upgrade relationship to email with Landing Pages and Lead Magnets
Prove then Pay: Create High Converting Offers, and don't pay for advertising until you've tested your offer on your email list (for free!).
Execution details will depend on your overall internet strategy.
However, best practices usually require you to move customers through a sales funnel:
Cold leads = people who don't recognize your brand
Warm Leads = people who have clicked on your website, or opted in to give you their email address
Hot Leads = people who have purchased from you.
It costs 4-6 times more to acquire a new customer than keep an old customer. That means your HOT LEADS are your best bet for building a thriving business. Gathering emails and selling over and over to the same customers will allow you to maximize your profit.
2. Chasing Vanity Metrics Wastes Time and Money
Vanity Metric: A bad metric that businesses use to make decisions that don't line-up with their long-term success.
There is an epidemic of chasing vanity metrics in social media.
Facebook Marketing tools clearly encourage businesses to chase page likes. This is a great example of a vanity metric.
The number of followers you have doesn't mean anything if they aren't engaged customers who buy stuff. Social media must drive SALES!
Facebook encourages pursuing these vanity metrics by clearly displaying your likes to everyone who visits your page They also offer ad choices that focus on increasing page likes.
They're ECSTATIC if you pay money for page likes. That means you'll be paying more money to boost your posts on their platform in the future!
I understand that page likes can also operate as a type of social currency, and allow you to create a hyper targeted Facebook Marketing list.
Still, the epidemic of chasing Facebook likes that don't lead to sales is real.
Bottom Line: Develop a coherent Facebook Marketing sales funnel that moves people from liking your page to purchasing from you.
Note: If you're not familiar with the term "sales funnel," I wrote an article about sales funnels here.
3. Advice, Advice Everywhere…
The massive popularity of Facebook Marketing has led to an explosion of advice and confusion from "social media experts."
Many small businesses use misapplied advice about social media, and end up not generating revenue ($$$) from the time and money they spend on Facebook Marketing.
Don't make these mistakes:
Posting without Purpose: Posts and updates should fit into a well thought-out sales funnel. Otherwise you're wasting time.
Boosting Bad Offers: Salesy copywriting and poorly converting offers are rampant online. They'll hurt your brand and offer a low ROI on your advertising dollars.
Flying Blind: You need to track your ad spending and conversions to understand what cost you're paying for a sale. Although some internet marketing cannot be easily measured (many organic approaches), ad spending, landing page conversions, and sales conversions should be measured.
I'm not saying to stop advertising on Facebook. 71% of internet users are on Facebook, and Facebook Marketing has one of the most accurate targeting systems I've seen anywhere.
… but you do need to be strategic with how you use the site.
The bottom line is that you need to understand how Facebook fits into your underlying digital marketing strategy.
+1 Benefit – The Google Effect of Facebook Marketing
What is the first thing a potential customer does when looking for your product or service?
Google.
That's why Google search is the first place I begin with new clients.
The extra benefit of mastering Facebook Marketing is that it can improve your search ranking, drive organic traffic, and connect with your customers in a more intimate way.
If you're strategic in connecting with your followers using Facebook Marketing, it can lead to people posting links to your content, and ultimately increase your ranking in Google.
We offer a more in-depth webinar that discusses how to incorporate Facebook Marketing into a larger organic search strategy.
If you're interested in learning more click here.
We also offer a few resources to everyone who comes to our Top of Google webinar:
5 Step Process: What are the steps that other businesses have used to get to the top of Google

27 businesses analyzed to bring you real life case studies of what works and doesn't

15 Warnings: Avoid these warnings before they shipwreck your business online.
Free Web Presence Audit: You'll be surprised at what we find.
Expert Consulting Session: Our expert will explain what options you have to increase sales online based on your Web Presence Audit.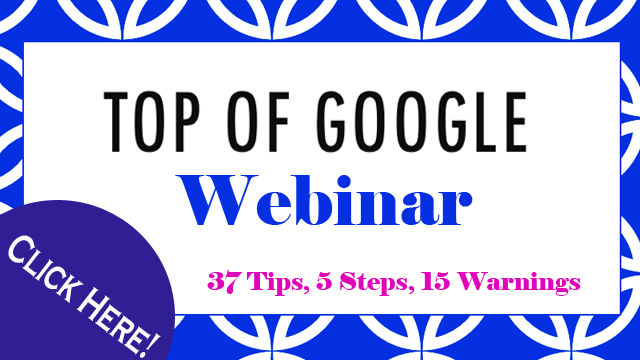 I hope you enjoyed this blog post!
Connect with us on our Facebook and Twitter @undglife.
I look forward to connecting again soon!
Best Wishes,
Joseph Drups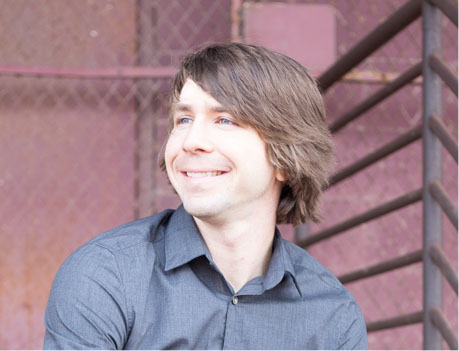 Author: Joseph Drups
Hi! I'm Joseph, the founder of Underdog Marketing. I am passionate about digital marketing, growing businesses, and start-ups. I'm an insatiable learner and a repeat entrepreneur. I love writing and I work on projects that I find purpose in with people who I believe in. I look forward to connecting!
Connect with me on Facebook, LinkedIn, or Twitter:
LinkedIn: Joseph Drups
  Twitter: @undglife
  Facebook: fb.com/undglife