by Joseph on December 5, 2017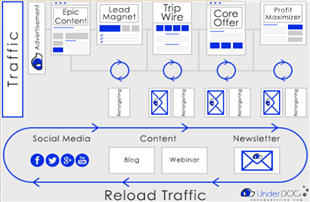 How do you scale your business from $0 in revenue to $1 Million online? This is the question that I'll be focusing on in this article.
What I want to do with this article is to give you a peak into the process of building out and scaling your business online.
Think of this as one of my $100 consulting session for free. My gift to you. I'm going to give you a peak behind the curtain of what it takes to grow your business in a scalable way. Nothing held back.
A typical mature sales funnel looks like this…